The following is Stephen Grimaldo's first-person recap of his experience at the Farmers Insurance Golf Tournament in Torrey Pines after winning Ron's Pharmacy's ticket giveaway for the event.
The Farmers Insurance Open at Torrey Pines this year was fun and exciting. I am a 'beginner' golfer at best, but still an avid fan. I brought along my coworker, Gene Banting, however, who is a skilled golfer. This came in handy as soon as we entered the venue. Once we passed through security and onto the green, Gene took over and opened the program for the day's tee times and events!
We arrived at 9:30 and made our way to Hole #10. Hideki Matsuyama, the top-rated golfer in Japan, was teeing off just as we arrived. Gene was excited to see Tony Finau tee off shortly after Matsuyama while I waited for the local threesome of Phil Mickelson, Ricki Fowler and Xander Schauffele. Tiger Woods happened to be walking up to the pin while Gene and I were talking shop and enjoying our 'free' beverages from the suite nearby. We ran out to get pictures but got separated in the gallery. Gene was smart enough to wait for Tiger to tee off, then followed his ball to wait for some great close-ups of him and his caddy talking up the rest of the run to the hole. It was fun to see the crowd of people following the most popular players.
Our suite, hosted by Konica/Minolta, was on the 18th hole but had a catwalk outside the rear entrance that looked over the 7th pin! We had some great opportunities to take pictures of the golfers as they played through the 6th hole, teed off at the 7th and made their way through the course to the 18th.   Unfortunately, it was day 1 of the tournament, so the 18th hole was being played through.
Food and drinks were complementary. Gene and I, of course, were first in line for the opening of the mini buffet. Barbeque beef, rosemary potatoes, chicken breast in a red sauce and a southwest salad were the entrees. Dessert came later – red berry-crusted bar and sea salt caramel brownies. All very delicious.
Our day slowly came to an end as we watched other golfers play through the 18th hole. While patiently waiting for our favorites, we suddenly noticed the lunch buffet was replaced with mid-afternoon snacks! Hot chicken wings, cold carrots + celery, chips, cookies, more brownies and coffee! No dinner plans were necessary after we left. Our favorites came through, we thanked the hostess and host, then made our way to the exit – after we picked up some free swag, of course!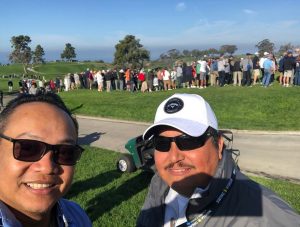 – Stephen Grimaldo